Contact the Ombudsman Program
In an effort to assure your needs are being met by the Ventura County Ombudsman Program and that your questions and concerns are handled to your satisfaction, we have introduced Open Line, a confidential and secure web and email based system that will help us stay in touch with each other
Open Line – How it Works
Open Line is a fast and easy process – only takes a few minutes of your time- and allows us to respond quickly and efficiently to any problems as well as any suggestions or ideas you may have. Open Line will send an "email check in" after your contact with us, as well as on a periodic basis throughout the year, to make sure we are meeting your expectations and needs. Please watch for emails from "Open Line for Long Term Care Ombudsman Program Ventura County." The emails will have "Open Line Check-in from Long Term Care Ombudsman Program Ventura County" as the subject line.
When you open the email from Open Line, please click on the link below and then the icon that best describes your issue: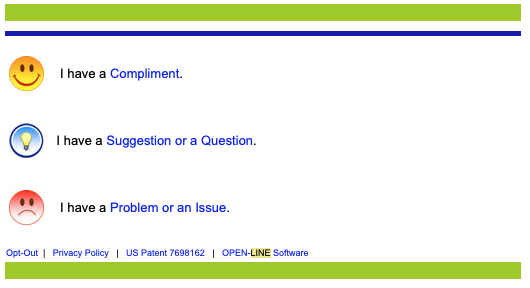 A ticket will be opened and you can write as much or as little as you want.
Your issue will be addressed that day or next business day.
It's simple, easy, confidential, but most importantly, it creates a partnership that will help us serve you better. You can login to your free, confidential account below.